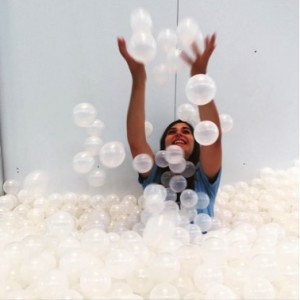 Name: 
Aryana Bolourian
Nickname:
  Bol
Year:  
Senior
Hometown: 
 Bethesda, Maryland
Voice Part:
Alto 2
Position in Loreleis:
 Treasurer
Major/Minor:
 Public Policy & Economics, Education Minor
Solos/Duets:
 Ain't No Sunshine, Daddy Lessons (Trio), Make Me (Rap)

What are some of your hobbies and interests?
 Eating, napping, writing songs, tutoring kids
Beach or mountains? 
La playaaaa
What will you be famous for one day? 
Eating the most Insomnia Cookies in one sitting
Favorite movie of all time?
 Inception
If you were a superhero, what would your power be and what would you be called?
 I'd eat whatever I wanted without gaining weight, and people would call me The MetaBOLizer.  
What is your favorite place in all of Chapel Hill? 
The Pit!
What decade were you supposed to be born in?
This one
If you weren't at Loreleis practice every Wednesday night, what would you be doing?
Homework...
What's the one thing you can't live without? 
My family&friends (That's one thing right?!)
What's your favorite thing about UNC? 
The atmosphere: it's the perfect balance between strong academics, great athletics, an awesome a cappella community, and incredible people. Not to mention the campus is gorgeous.
Leave us with a quote that inspires you. 
"I don't have to prove anything to anyone. I only have to follow my heart and concentrate on what I want to say to the world. I run my world." – Beyoncé