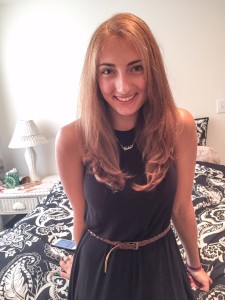 Name:  Celia Vitale
Nickname:  Seals, Cels, Sealzie etc.
Year: Senior
Hometown: Charlotte, NC
Voice Part: S2
Position in Loreleis:  co-Music Director
Major/Minor: Biology BS, minors in Chemistry and Music
Solos/Duets: Stay Just a Little Bit Longer (Be My Baby Medley), Trio on Elastic Heart, Trio on Here, Duet on In The Night, Trio on Carolina Girls
What are some of your hobbies and interests? Singing (obviously), doing Pilates or Aerial Dance, dancing, shopping, drinking coffee and tea, anything and everything Disney, and traveling the world!
Beach or mountains?  Beach all day, every day.
What will you be famous for one day? Saving the world from a catastrophic plague while also being a Disney Princess
Favorite movie of all time? Favorite Disney movie: Beauty and the Beast. Favorite "other" movie: Mean Girls.
If you were a superhero, what would your power be and what would you be called? I'd be able to teleport anywhere in the world, and I 'd be called Cerebral Celia!
What decade were you supposed to be born in? The raging 1920s. I would have loved to live in the time of The Great Gatsby!
What's the one thing you can't live without? I can't live without my two favorite stuffed animals #adultlife
What's your favorite thing about UNC?  I love the feeling walking through campus that every person here is part of your Carolina family because we all love this university so much.
If you weren't at Loreleis practice every Wednesday night, what would you be doing? One of three things: Working out, doing homework, or hanging out at Pint Night at He's Not Here.
Leave us with a quote that inspires you. "I'm a damsel, I'm in distress, I can handle this. Have a nice day." – Megara from Hercules