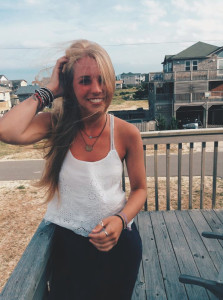 Name: Hunter
Nickname:  Hoont, Hunt, Hunner Bunner
Year: Senior
Hometown: Chapel Hill
Voice Part: A1
Position in Loreleis:  El Presidente
Major/Minor: Journalism, specializing in Strategic Communication and minoring in Studio Art
Solos/Duets: PYT, trio in Next to Me, Please Don't Stop the Music (Rihanna Medley), Crazy, duet in I Don't Want to Be, Have You Ever Seen the Rain?, trio in Daddy Lessons, Needed Me (R&B Mashup)
What are some of your hobbies and interests? 
Painting, crafting, graphic design, drawing mandalas, accidentally falling asleep, Mexican food and margs, fidgeting, House of Cards, getting stuff – usually pepper – stuck in my teeth (pls help me), color coding my closet, candles, staying up late doing NOTHING (WHY do I do this to myself), popcorn, Diet Coke
Beach or mountains?  Beach! OBX in particular
What will you be famous for one day? Waking up one morning stranded on a desert island as part of a new TV series because I totally forgot I had signed up for it thinking it was a good idea on one of my delusional late-night internet rampages.
Favorite movie of all time? Hot Rod. Or Ex Machina. Or Inside Out. All of them. COMBINED. Jk that's a terrible idea.
If you were a superhero, what would your power be and what would you be called? 
The ability to get up in the morning without absolutely hating every single second of it. A "Morning Person"
What decade were you supposed to be born in? 
I quite like the one I was born in. Thanks, Mom and Dad! Y'all rock.
What's the one thing you can't live without? 
Pepper. SO MUCH PEPPER. ON EVERYTHING.
What's your favorite thing about UNC?
My peeps and this beautiful campus.
If you weren't at Loreleis practice every Wednesday night, what would you be doing? 
In a perfect world I'd be at Pint Night at He's Not.
Leave us with a quote that inspires you. 
You can't please everyone. You're not a Nutella jar.