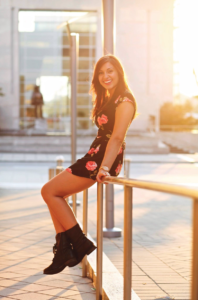 Name:
Lily Rashid
Nickname: Lils
Year: Junior
Hometown: Cary, NC
Voice Part: S2
Position in Loreleis: Historian
Major/Minor: EXSS Major (pre-physician's assistant track)
What are some of your hobbies and interests? 
Singing (of course!), acting, dancing, reading, traveling (I'm always up for an adventure), volunteering, yoga, and pilates. I am also an avid Netflix binge-watcher as well as a shopaholic.
Beach or mountains?
Beach!!!
What will you be famous for one day?
I would love to be famous for making others happy 🙂
Favorite movie of all time? 
Star Wars (the entire original trilogy)
If you were a superhero, what would your power be and what would you be called? 
I would be called Lil' lil and my power would be telekinesis because that would just be so cool. And I'm obsessed with Stranger Things on Netflix, so yeah.
What decade were you supposed to be born in? 
I feel like I was born in the decade I was supposed to be born in. But if I had to choose, I would say the 1980s because the music was insanely good. Oh, and I totally could have rocked those fashion trends.
What's the one thing you can't live without? 
My family. I would be lost without them.
What's your favorite thing about UNC?
I love everything about UNC. How could I not? The people, atmosphere, opportunities, and even the classes are all so amazing. It truly has become my home.
If you weren't at Loreleis practice every Wednesday night, what would you be doing? 
I would be doing homework…or avoiding my responsibilities by binge-watching a show on Netflix.
Leave us with a quote that inspires you. 
"Those who don't believe in magic will never find it." Roald Dahl