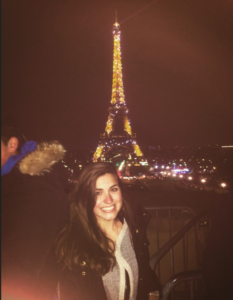 Name: Olivia Zitkus
Nickname: Zitkus….
Year: Sophomore
Hometown: Pottstown, PA
Voice Part: A1
Position in Loreleis: Music Director
Major/Minor: Classics & Economics
Solos/Duets: Buy U A Drank (24K Dranks Mash Up)
What are some of your hobbies and interests? like reading dead languages for fun, running, talking about The Hill School (The Family Boarding School™), enjoying a big old Zinburger's Creme Brûlée milkshake, Brussel sprouts, my mom's cooking, retail therapy, traveling far far away (!), and road trips…I'm also super interested in educational equity & archaeological digs…I'll let you know how I synthesize those when I'm old.
Beach or mountains? Beach, hands down. How far is the Jersey Shore from here?
What will you be famous for one day? Fixing the Greek debt crisis
Favorite movie of all time? Catch Me If You Can
If you were a superhero, what would your power be and what would you be called? I would definitely have all the powers of an owl…flight, head and neck flexibility, cute big eyes…Owlivia? No? I'm just gonna go now.
What is your favorite place in all of Chapel Hill? 
The Dean Dome on *game DAY*
What decade were you supposed to be born in? The early 60s. I just want to be a college kiddo in the 80s that's all I ask!
What's the one thing you can't live without? Coffee. At least 30 oz/day. Start my IV drip please.
What's your favorite thing about UNC? UNC Basketball/ having a heart attack when I see a basketball player anywhere, ever…*shudder*
If you weren't at Loreleis practice every Wednesday night, what would you be doing? Doing homework with Mimi Cheung talking about how it was weird that we weren't at Loreleis practice.
Leave us with a quote that inspires you.
"Sometimes the fear doesn't go away, and you'll have to do it afraid." -Anonymous