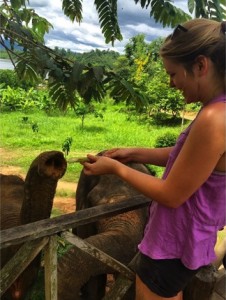 Name: Brynn Cameron
Nickname:   Brynndalyn, Brynnbear, Bernie, Bran Muffin, Brenda-lynn, Brenda
Year: Senior
Hometown: The thrill, Chapel Thrill
Voice Part: Soprano 1
Position in Loreleis:  Treasurer
Major/Minor: Okay here we go: Strategic Communication (Public Relations and Advertising) Major, Media Production Double Major, and Global Cinema Minor. Phew.
Solos/Duets: Royals, Love the Way You Lie (Rihanna Medley), Warpath, Blank Space/Team, Our Own House, Gold Digger (Fresh Gold House Medley), One Dance (Pop R&B Mash-up), Lorelei. Harmonies in Ain't No Sunshine, Long Train Running, Never Be Like You
What are some of your hobbies and interests?  Traveling, belly dancing, still-and-film-camera-ing, swing dancing and sitting in expansive meadows
Beach or mountains?  …what time of year is it?
What will you be famous for one day? Films, I'll be on some end of the spectrum, so whether it's as Casting Director or Editor hopefully one day you'll see names like "Brynn Cameron" and "Warner Brothers" in close proximity
Favorite movie of all time? Well that's close to an impossible question, but to name a few:  The Illusionist, O Brother Where Art Thou, Momento, A Knight's Tale, and No Country For Old Men.
If you were a superhero, what would your power be and what would you be called? I think the power to heal people would be wonderful! Think about all of the anxieties that would take care of… And probably "The Regenatris" (regenerate? get it?)
What decade were you supposed to be born in? So I'm all about having rights and equality, which makes me pretty excited to have been born in this era… but in a romantic sense, probably the 20's or 30's. Or maybe the renaissance?
What's the one thing you can't live without? Hot sauce. Really of any variety, but Buffalo Wild Wing's spicy garlic? That might take the cake.
What's your favorite thing about UNC? The door holding, people go out of their way to make sure the door is open for you. I think that says a lot about the sense of community here, even if you don't know someone personally they're part of your UNC family and they're worth taking care of.
If you weren't at Loreleis practice every Wednesday night, what would you be doing? Probably either going to some dance function or watching a movie I haven't seen before.
Leave us with a quote that inspires you. 
"If a person has ugly thoughts, it begins to show on the face. And when that person has ugly thoughts every day, every week, every year, the face gets uglier and uglier until you can hardly bear to look at it.
A person who has good thoughts cannot ever be ugly. You can have a wonky nose and a crooked mouth and a double chin and stick-out teeth, but if you have good thoughts it will shine out of your face like sunbeams and you will always look lovely."
-Roald Dahl