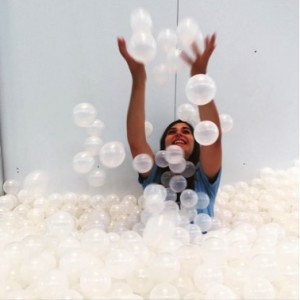 Name:  Aryana Bolourian
Nickname:  Bol
Year:  Senior
Hometown:  Bethesda, Maryland
Voice Part: Alto 2
Position in Loreleis: Treasurer
Major/Minor: Economics, Public Policy Minor
Solos/Duets: Ain't No Sunshine, Daddy Lessons (Trio), Make Me (Rap), Sober by Lorde, Long Train Runnin' (Trio)
What are some of your hobbies and interests? Eating, napping, Netflixing
Beach or mountains? La Playa
What will you be famous for one day? Making noises with my voice
Favorite movie of all time? The Lizzie McGuire Movie
If you were a superhero, what would your power be and what would you be called? The MetaBOLizer: I would be able to eat whatever I wanted and never gain weight.
What is your favorite place in all of Chapel Hill? The Pit!
What decade were you supposed to be born in? This one, or the future
If you weren't at Loreleis practice every Wednesday night, what would you be doing? Pint night at He's Not Here
What's the one thing you can't live without? My Mom
What's your favorite thing about UNC? The love that the student body has for Carolina
Leave us with a quote that inspires you.
"I'm not bossy. I'm the boss." -Beyoncé