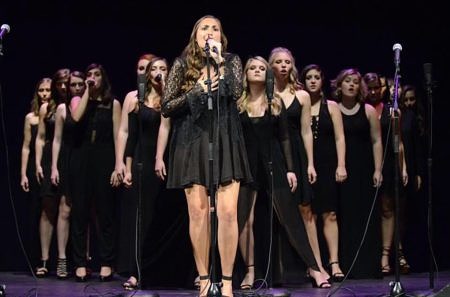 Name: Karli Krasnipol
Nickname: Kraz/ Krazzy/ Krazzle Dazzle/ Kyle
Year: Senior
Hometown: Wilmington, NC                  
Voice Part: Alto 2
Position in Loreleis: Publicity Manager
Major/Minor: Public Relations and Political Science double major with a minor in Religious Studies
Solos/Duets: Mr. Postman (Be My Baby mashup), Run It, Talking Body, Like I'm Gonna Lose You, Reaper by Sia, Plain Gold Ring by Nina Simone (style by Kimbra), Symphony by Clean Bandit, Distraction by Kehlani
What are some of your hobbies and interests? Running, eating, sleeping, napping, reading, watching the Bachelor in Paradise/Bachelor/Bachelorette, eating cookie dough ice cream, big T-shirts, beach, guitar, theater, dancing, and burritos
Beach or mountains? Beach because...you know?
What will you be famous for one day? Being the seventh friend on "Friends," as Kylie, Joey's serious girlfriend that causes Phoebe to realize she loved him all along.
Favorite movie of all time? Animal House
If you were a superhero, what would your power be and what would you be called? My power would be teleportation and my name would be ~kween teleporter~
What decade were you supposed to be born in? The 60s because then I would've been a part of 60s music, 70s music, and 80s music. Wow. Yes.
What's the one thing you can't live without? My little brother a.k.a my best friend
What's your favorite thing about UNC? The ability to walk around a massive campus with a diverse and unique community, yet still feeling a connection to everyone and everything around me
If you weren't at Loreleis practice every Wednesday night, what would you be doing? I would be up in the gym just working on my fitness…Jaewon's my witness.
Leave us with a quote that inspires you.
"I believe that laughing is the best calorie burner. I believe in kissing, kissing a lot. I believe in being strong when everything seems to be going wrong. I believe that happy girls are the prettiest girls. I believe that tomorrow is another day and I believe in miracles." – Audrey Hepburn