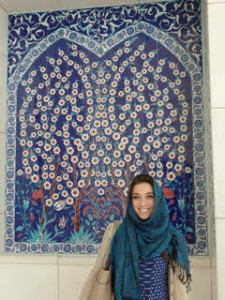 Name: Katherine Lane
Nickname: Kat, Kitty Kat
Year: Senior
Hometown: Fayetteville, NC (Dreamville represent)
Voice Part: A2
Position in Loreleis: Merchandising Manager
Major/Minor: Environmental Science
Solos/Duets:
Second One To Know (Duet)
What are some of your hobbies and interests? Playing volleyball, laughing, singing (duh), drinking coffee, watching 20 episodes of Friends without noticing the passage of time, making/eating/loving/obsessing over cookies, dancing like I know what I'm doing, playing piano, eating Med Deli every day, keeping my eyebrows fleeked 24/7, being the tallest La and also taller than 75% of the world's population, playing with my dogs, telling people about my dogs, showing people pictures of my dogs, spreading the lorelove for my new La family.
Beach or mountains? Love having sand between my toes while I read a fab book (aka falling asleep after five minutes and waking up sandy and disgruntled)
What will you be famous for one day? I'll 100% be a professional eater.
Favorite movie of all time? My Big Fat Greek Wedding, Begin Again, or Mulan (please don't make me pick!!). I recently saw Mistress America though and loved it, so it may make the list next year.
If you were a superhero, what would your power be and what would you be called? My power would be shapeshifting and I'm bad at coming up with names, but an anagram of Katherine Lane is Neat Elken Hair so I'd probably use that.
What decade were you supposed to be born in? I never know how to answer this question, but I think I'm in the right time.
What's the one thing you can't live without? My family. They're my support system and I have absolutely no idea what I would do without them.
What's your favorite thing about UNC? As cheesy as it sounds, my favorite part of UNC is the people. They're what make this beautiful place feel like home.
If you weren't at Loreleis practice every Wednesday night, what would you be doing? Probably studying calculus or complaining about calculus or procrastinating doing my calculus homework by doing literally anything else to help me forget that it exists.
Leave us with a quote that inspires you. "Good things come to those who wait but only the things left over by those who hustle." - Abe Lincoln